General Graham was wounded and taken prisoner at Gettysburg, after having distinguished himself at Glendale and Malvern Hill. He was confined for several months in Libby Prison, and after his exchange he had command of the gunboat flotilla and took part in the attack on Port Fisher. General Hayes was taken prisoner in the operations around Richmond and held in Libby almost to the end of the war. He was appointed to distribute the supplies sent to the Federal prisoners in Richmond by the United States Government and the Sanitary Commission.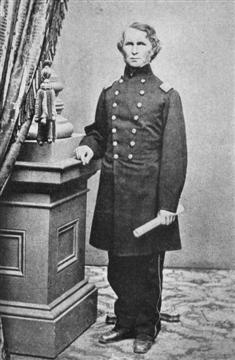 Brigadier-General Neal Dow
While Colonel

Sanderson was confined in Libby Prison he issued a statement sustaining the contention of the Confederate authorities regarding the rations issued the prisoners, for which he was denounced by a mass-meeting of officers held in the prison who declared that their food was insufficient to sustain life. General Dow was wounded and captured in the attack on Port Hudson in July, 1863. For more than eight months he was confined in Libby Prison, but was afterward sent South. He was exchanged for W. H. F. Lee, nephew of Robert E. Lee.