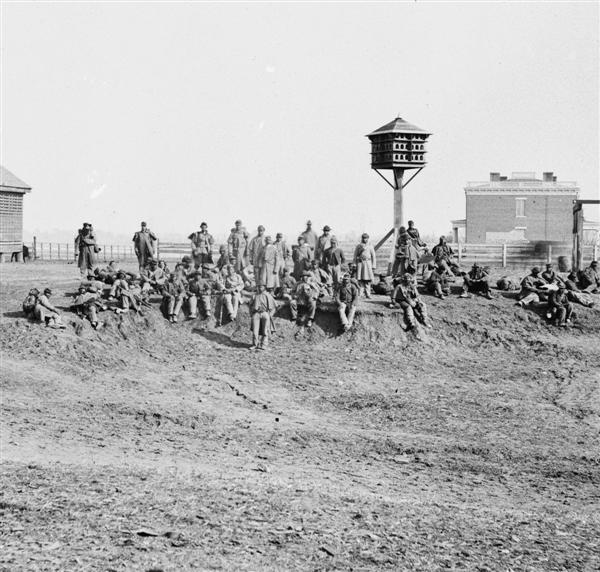 Colored Convalescent Troops at Aiken's Landing, James River
These convalescent colored troops are resting at Aiken's Landing after a march. On the right is A. M. Aiken's house, on the brow of the hill overlooking the river. The scene was much the same when this was a point of exchange in 1862, but there were no colored troops in the Union armies until the following year. These men are evidently exhausted; they sit or lie upon the ground without taking the trouble to remove their knapsacks. This appears to be only a temporary halt; the wayfarers will shortly march out on the pier to a boat waiting to take them down the James. The opposite shore can dimly be seen on the left of the picture. Here as on the following page, in front of Aiken's mill, appears a martin-box.
page 113 in 1911 book

visits to this page.
Page last revised05/24/2006
More Civil War Material:
American Civil War Anecdotes, Incidents and Articles.
This online edition of The Photographic History of the Civil War includes improved images using digital images from the Library of Congress, when available. It also includes additional images that are either cropped from the Library of Congress digital images or are related to the specific topic being discussed in the article or page.
Volume 7 of the History is the first volume I'm publishing online simply because it was the one I was interested in when I decided to publish.
More to come, I hope.