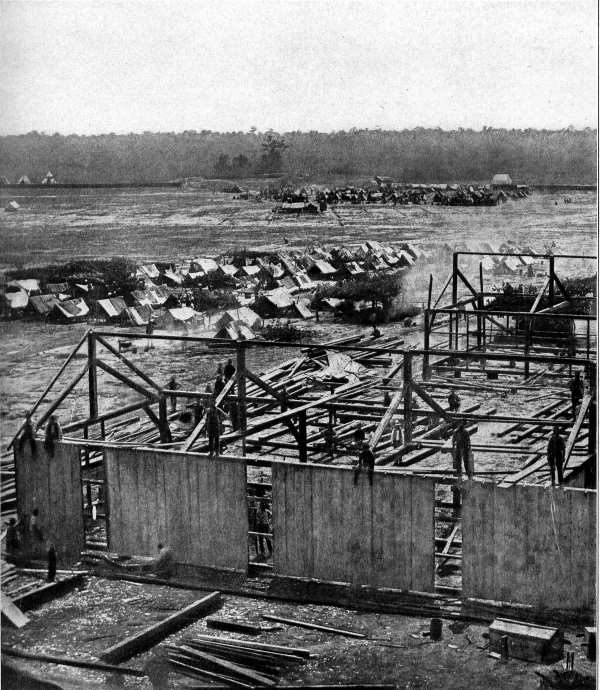 The "BullóRing" At City Point, A Dreaded Provost Prison
The exigencies of war differed so widely from those of peace that at times the prisoners held by their own side had quite as much to complain of as if they had been captured in battle. The "Bull-Ring" at City Point was composed of three large barracks of one story which opened into separate enclosures surrounded by high wooden fences. All this was enclosed in a single railing, between which and the high fence a patrol was constantly in motion. The inner sentry stood guard upon a raised platform built out from the fence, which gave him a view of all the prisoners in the three pens. This is where the provost-marshal's prisoners were confined. The sanitary conditions were indescribably bad. William Howell Reed, in "Hospital Life," published in 1866, quotes an officer recently liberated from Libby Prison as saying that he would rather be confined in Libby for six months than in the "Bull-Ring" for one.
page 185 in 1911 book

visits to this page.
Page last revised05/24/2006
More Civil War Material:
American Civil War Anecdotes, Incidents and Articles.
This online edition of The Photographic History of the Civil War includes improved images using digital images from the Library of Congress, when available. It also includes additional images that are either cropped from the Library of Congress digital images or are related to the specific topic being discussed in the article or page.
Volume 7 of the History is the first volume I'm publishing online simply because it was the one I was interested in when I decided to publish.
More to come, I hope.