An Incident of the Wilderness.
By Charles Carleton Coffin
AT the close of the first day's battle in the Wilderness, I was at General Grant's headquarters in the edge of the pine grove west of the Wilderness tavern. General Meade and his chief of staff, General Humphreys, Grant's staff, and Congressman E. B. Washburne were there.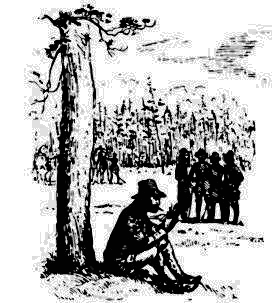 Suddenly there came a yell from the direction of the Sixth Corps on our right; then quick, rapid volleys. We could see a sudden movement of teams to the rear. An officer rode up, much excited, exclaiming that the right flank had been turned, that the enemy had massed their whole force to crush Sedgwick, and that Shaler's brigade had been captured. Grant was sitting with his back to a pine-tree, whittling a stick (as shown in the picture drawn by Mr. C. W. Reed after a little pencil sketch made by him at the time). Grant said nothing, did not rise, and went on quietly with his whittling.
"Shall I order a diversion by the Ninth Corps in support of the Sixth?" asked Meade.
"If you think best," was Grant's reply.
Humphreys wrote the order, which was sent. The firing was increasing.
After several minutes, Grant turned to Washburne and said," I don't believe that story. Warren has been fighting all day, and since mid-afternoon Hancock has been at it. Lee hasn't had time to mass his forces in front of Sedgwick. We shall hear a different story."
In the course of fifteen or twenty minutes an officer came in, and reported that a large part of Shaler's brigade had been captured, but that the enemy had been repulsed on the right. During the excitement Grant never rose from his seat.
Coffin, Carleton Coffin, "An Incident of the Wilderness," The Century, A Popular Quarterly; Vol. 31, Issue 4, p. 582, February 1886; New York: The Century Company
visits since 03/27/2004.
Page updated 05/22/2004