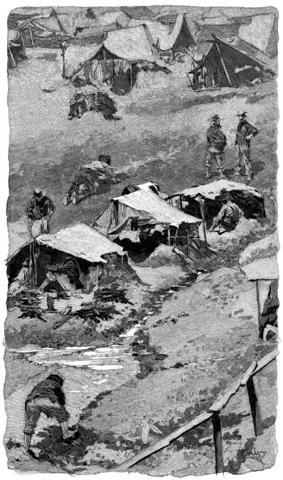 As the "greenbacks " thus increased within our prison, villainy advanced with rapid strides. An organized band of over two hundred members, selected from the most unprincipled and healthier prisoners, bound together by oaths, and armed with short, heavy clubs, overran the prison-pen. They committed their depredations every night, and became a terror to us all. They finally grew so bold as to knock down and rob men during the day. They robbed me of a pair of shoes one night, taking them from under my head, where they were placed as a pillow, and I never got even got glimpse of the thief. I went without shoes for four months.

The gang were known as the "Raiders." They had everything their own way for nearly three months, when it was discovered that several of our number had been murdered by them. This knowledge stirred us up a good deal and we soon sent out a petition to the authorities praying for some interference in our behalf. They granted our request at once, and sent in twenty or thirty of their best men armed with revolvers, to assist us in hunting out the desperadoes.

In the course of three hours some two hundred of these raiders were pointed out by the different prisoners, who could easily do so soon as all fear of consequences was removed. They were placed under a special guard, and marched outside that they might receive a fair trial. In fact, the captured were taken outside at their own request, as the multitude of prisoners were so excited and enraged that they could expect but little mercy at our hands.

Wirz informed our leading men within the prison that he dared not proceed against these men, either by court martial or by any civil law that could be had in that; but that he would allow us to organize court, judge, and jury, and try our prisoners, as he called them, by a court of our own; and that he would render all the assistance in his power in guarding the prisoners for us, and in furnishing proper facilities for executing the sentences that the court might impose.