General Payne, of Illinois, commanded a brigade in the Army of the Cumberland, composed of Ohio and Illinois troops. A soldier of the Seventy-ninth sent to the Dayton (Ohio) Journal, the following in reference to this officer:
The Rebellion must be Squelched.—One day a wealthy old lady, whose plantation was in the vicinity of camp, came in and inquired for General Payne. When the commander made his appearance, the old lady in warm language at once acquainted him with the fact that his men had stolen her last coopful of chickens, and demanded their restitution, or their value in currency.
<![if !vml]>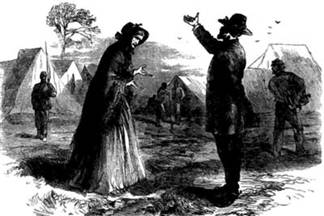 <![endif]>"I am sorry for you, madam," replied the general; "but I can't help it. The fact is, ma'am, we are determined to squelch out this unholy rebellion, if it takes every d—d chicken in Tennessee."
This exhibition of utter recklesness of means for the accomplishment of a purpose which the old lady deemed most foul, temporarily deprived her of the power of speech, and she passed from the presence of the general without asserting her right − the last word.