Front Pages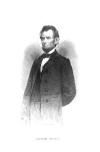 ANECDOTES,
POETRY AND INCIDENTS
OF THE WAR:
NORTH AND SOUTH.
1860-1865.
COLLECTED AND ARRANGED
BY FRANK MOORE,
EDITOR OF "THE REBELLION RECORD," "DIARY OF THE AMERICAN REVOLUTION," ETC., ETC.
_______________________
NEW YORK:
PUBLICATION OFFICE, BIBLE HOUSE.
JAMES PORTEUS, GENERAL AGENT.
1867.
________________
Entered, according to Act of Congress, in the year 1865, by FRANK MOORE, in the Clerk's Office
of the District Court of the United States, for the Southern District of New York.
STEREOTYPED AT THE
BOSTON STEREOTYPE FOUNDRY
No. 4 Spring Lane.